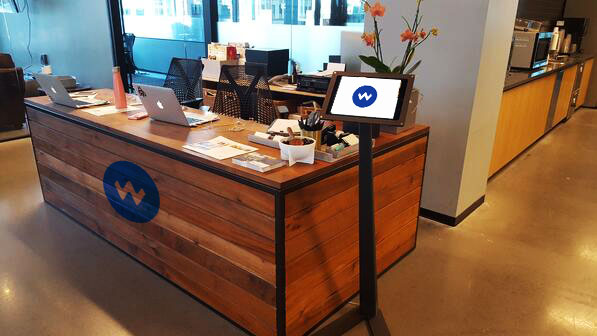 What is a visitor management system, and how does it work?
Introduction
Let's start with some questions:
Do you know how many people are in your office right now? How many were here yesterday? How many visitors did you have last month?
If you had trouble answering at least one of these questions or had to search for sign-in sheets and count them by hand, then this article is for you
.
Let's talk about those sign-in sheets for a moment. How accurate is the information on them?
Do they capture all the necessary details, like how long someone was in the building, who they visited, and why they were here
? Can you use this data to understand visitor traffic better? Did visitors leave accurate contact information?
If you're feeling overwhelmed or unsure about any of these questions, you're not alone.
Many workplaces struggle with managing visitor traffic and data, but there's an easy solution – a visitor management system
.
What is a visitor management system, and how does it work?
A visitor management system helps keep track of all the people who enter or leave your workplace.
These can be clients, delivery people, job seekers, workers, advisors, friends, or even family of staff
.
This digital sign-in system is easy for visitors and employees to use. It boosts your company's image, efficiency and enhances workplace security.
What is the significance of a Visitor Management System?
The old-fashioned way relied on using a pen and paper logbook. The receptionist will then have to locate the hosts to alert them of their visitors arrival. This process
is outdated
and unsafe. It also doesn't make a good impression on visitors or help your company stand out.
Nowadays, modern offices and buildings use an automated system to sign in visitors, print visitor badges, and notifies
the host of visitors arrival.
This system also makes sure visitors fill out any necessary legal documents to
comply with
rules and regulations
.
Benefits of a Visitor Management System
Technology's replacement of the conventional pen and paper method brings with it new advantages. It improves the production and efficiency of the company. Therefore:
Establish a solid reputation: A visitor management system can help a company make a good impression on its visitors. It shows that the company takes security

seriously

, which can impress visitors. This can help establish a positive brand image, no matter the size of the company. Visitors will also enjoy a modern sign-in experience.
Improve onsite security: Businesses are frequently concerned about corporate espionage, theft and vandalism. Deploying a visitor management system on your premises can help you eliminate the risk of these occurring or, where they occur nevertheless, data captured by the system will help in identifying and tracking the perpetrator.


In addition

, it is important to have a system in place to track visits

in order to

keep your employees, workspace, and ideas safe

. It's a good idea to keep a digital record of everyone in the building in case of a workplace emergency or evacuation. If such a rare occurrence occurs, it is simple to keep track of everyone and ensure their safety.

Boost productivity:

A visitor management system allows the host pre-register visitors in advance to speed up sign-in when they arrive

. This makes it faster and easier to check in when they get to the building.
The system can also send an email to the host with a picture of the visitor when they arrive. This way, the host can

easily

recognize them and give them a friendly welcome.

The system can even print out personalized name badges, so the receptionist doesn't have to write them out by hand

.

Boost workplace security and compliance assistance:

Compliance rules can be complicated and time-consuming to maintain. Using a visitor management system can ensure that your data processing protocols are compliant with the GDPR and or the NDPR.

The visitor management system can also help you protect your business ideas and intellectual property by ensuring that visitors sign any non-disclosure agreements before having access to vital information or areas of your facility.
Conclusion
The visitor management system has a variety of advantages that are bound to make your organization more effective, secure and productive, while leaving your visitors with an excellent first impression about your business.
At Workwise, we offer a great visitor management solution that is cost effective, smart and optimised to help you improve facility management. wVisitor helps you manage and keep record of visitor traffic to your business premises, as well as provides you with relevant data to help make relevant forecast necessary for effective planning.